Redline Garagegear Garage Cabinets
Garagegear is not "just another" garage cabinet
Garage Cabinet Features
Features and benefits competitors can't match
Choice…
12 color choices will complement almost any decor
More than 500 cabinet styles and sizes can be configured to fit every space and every need
Durability…
Powder-coated exterior surfaces withstand the temperature and humidity swings of the typical garage environment
Heavy duty hardware will stand up over time for both residential and industrial storage cabinets
Powder coated steel hang rail resists corrosion
Durable butcher block or ultra-tough Impact Coating™ countertops
Superior design…
Off-the-floor design keeps everything off the floor, high and dry
Engineered to common dimensions so all components can be used together
Custom designed and built…
Custom garage cabinets designed to fit your needs like a glove
Custom garage cabinets built in-house, upon receipt of your order, for the cost of "off-the-shelf" solutions
Quality…
9-ply baltic birch drawers won't warp
Full extension drawer glides for ease of use
Superior dovetail drawer construction
6-way adjustable door hinges
Anodized aluminum or brushed stainless steel handles won't rust
Warranty…
Lifetime warranty for peace of mind
Features and benefits no competitor can match!

Powder coated finish in choice of 12 colors. 400 cabinet styles and sizes with a Lifetime Warranty.
Off-the-floor design keeps everything high and dry.

Baltic birch drawer boxes feature high quality dovetail construction. Choice of durable countertops including maple butcher block with clear coating or ultra-tough chemical-resistant black polyurethane Impact Coating™.

Heavy duty hardware for long life. Anodized aluminum handles resist corrosion. Brushed stainless steel contemporary handles. Adjustable hinges ensure life-long operation.
Garage Cabinet Colors
More powder-coated color choices than the competition!
RedLine garagegear storage cabinets for garages are available in eleven great powder-coated colors to complement any garage. Garagegear offers more color choices than any other utility storage cabinet manufacturer. And with a choice of color coordinated handles, your finished cabinets will look great for many years. But the beauty of these cabinets is not only skin deep.
Powder coating creates a finish that is as durable as it is attractive. All exterior surfaces (fronts, backs, sides) are sealed – no seams or cracks – creating a tough surface that is perfect for the garage. And keeping them looking great is a breeze…simply wipe them down with any household cleaner and water to maintain their bright colors and good looks. Last, but not least, only garagegear cabinets are guaranteed for a lifetime.
Twelve powder-coated colors
Due to variations in monitors, colors displayed below may not be accurate. See OUR actual color samples of wood garage storage cabinets.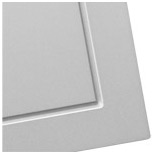 Platinum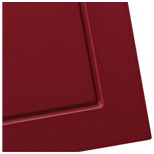 New Burgundy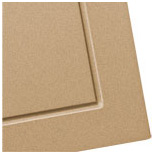 Sandstone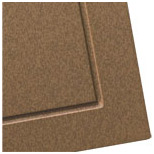 Earthstone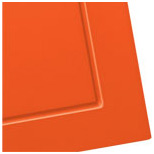 Orange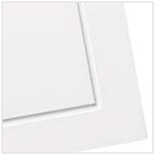 White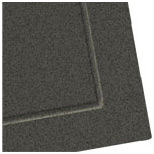 Pewter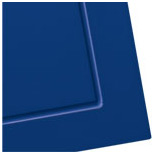 Royal Blue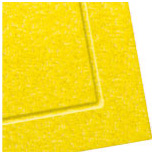 Yellow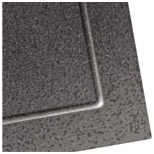 Silver-Vein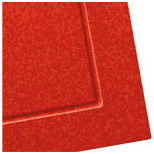 Red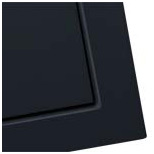 Black
Garage Specialty Cabinets
Create your ideal garage
Garagegear has the largest selection of specialty cabinets and garage storage bins of any garage cabinet manufacturer, to custom design your garage for your exact needs and interests.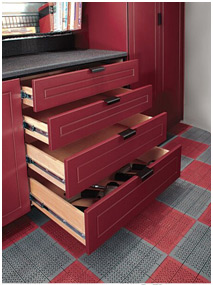 Drawer Units
Need better garage tool storage?
Drawer units are available in multiple heights, widths and depths to fit your needs. Used with lower cabinets or tall storage cabinets.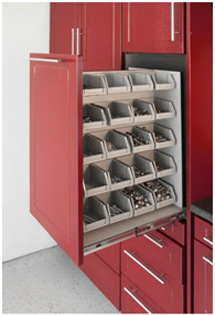 Parts Bin
Our parts storage cabinets come with 32
Parts Bins which are great for storing any kind of small parts and keeping them all organized and in easy reach.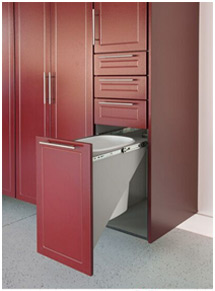 Trash pullout
Keep everything neat and tidy with our convenient trash pullout. Works anywhere with lower cabinets or tall storage cabinets.
RedLine Garage Workbenches
Choose the workbench that's right for you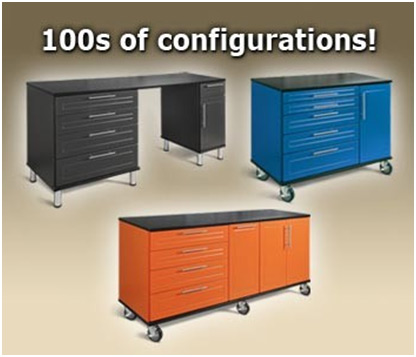 With a wide variety of styles, sizes and configurations in your choice of 12 different colors, you can be sure to find the perfect fit for your needs. Want to move your workbench to your work? Choose our Rolling Workbench. Prefer to bring the work to your workbench? Stationary Workbenches are great for working in a fixed area.
Our garage workbenches share all the same features as our garagegear cabinets, but are freestanding, so they can be located anywhere, even the middle of your garage. Stationary workbenches are mounted on adjustable legs so you can adjust for uneven floors. The 80" width model can be built with a knee hole, allowing you to sit while working on a project. Rolling workbenches have casters, allowing you to move your tools and supplies from one project directly to another. Both designs feature finished powder-coated back panels so they look great on all sides.
Garagegear Workbenches use the same lower cabinet drawer units, door units and bins as our regular garage cabinets (see Garage Cabinet Choices). Mix and match these components to create the perfect garage workbench for you. And top everything off (literally), with our industrial-strength chemical-resistant black urethane Impact Coating™ countertop that can withstand almost anything.
Garagegear Workbenches are a great complement to our wall-hung cabinets, and like those cabinets, were designed and built specifically for the garage environment… superior powder-coated finish, heavy-duty hardware and industry-leading warranties.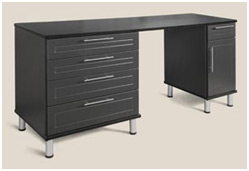 Stationary Workbench
The stationary garage workbench features adjustable legs, and is available in 32", 48", 64" or 80" widths, with a 24" deep work surface. In addition, the 80" unit can contain a knee hole for sitting. The larger units feature additional legs for stability.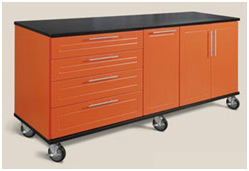 Rolling Workbench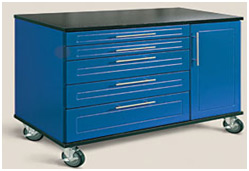 Garage Workbench
Transform your garage™ into a great work area with a custom-built freestanding Rolling Workbench or Stationary Workbench.
Our workbenches share all the features of our regular garage cabinets and are available in 32", 48", 64" or 80" widths, with a 24" deep work surface.
Move your work surface, tools and equipment to your projects, with our rolling workbench. Large 6" rubber casters roll easily and quietly wherever you want and lock for stationary use. The mobile workbench is available in 32", 48", 64" or 80" widths.
Workbench Cabinets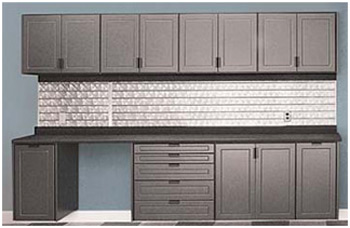 A heavy-duty workbench is great, but you may still need other cabinets in order to have the perfect garage storage solution for your needs.
Many of our customers prefer to integrate their workbench into an entire wall of garagegear cabinets.
Start with a custom length work surface in your choice of black urethane Impact Coating™ or maple butcher block and add storage cabinets, drawers or specialty cabinets to create that perfect solution for your particular needs.
When you combine all the specialty cabinets, drawer combinations and add-ons, almost unlimited configurations are possible.
From an off-the-floor design to a rugged powder-coated finish, RedLine Garagegear workbench cabinets are designed to take nearly anything everyday life can throw at them.
And remember that our garage cabinet systems come with an industry-leading Lifetime Warranty, so you'll be enjoying your new garage storage solution for a very long time!
Garage cabinet choices
More than 500 garage cabinets are possible with RedLine garagegear, not to mention the cabinets we build to custom sizes. The various cabinet styles we offer are shown below. If you want to see all the cabinets we offer, or would like to design your own configuration, download the Cabinet Drawings on the right side of this page.
Uppers
Single or double door cabinets, widths of approximately 16″ or 32″, heights of 24″ and 30″, multiple depths. Custom-width door cabinets available (see Speciality Cabinets below for more information on our garage storage cabinets with doors).
Lowers
24″ and 30″ heights, single or double doors, widths of approximately 16″ or 32″, or drawer configurations. Custom-width door cabinets available  (see Speciality Cabinets below).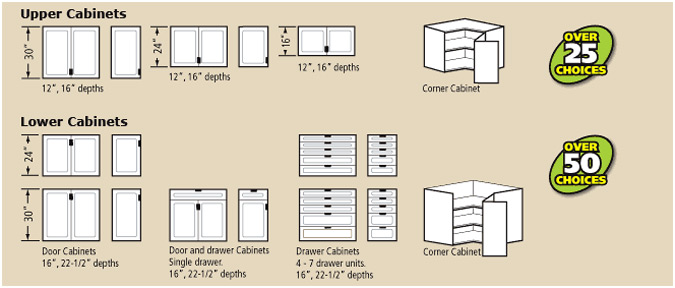 Storage Cabinets
49″ and 79″ cabinet heights. Single or double door styles in a wide variety of configurations of doors and drawers. Adjustable shelves included (see note below about adjustable shelving)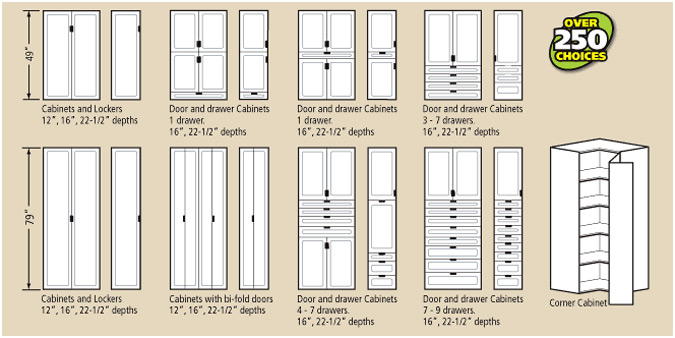 Specialty Cabinets
Lower speciality cabinets include a rolling tool cart, parts bin, and waste bins. 79″ cabinets include combination door and bin cabinets, lockers, and the garage closet. Custom-width door cabinets available in upper cabinets, lower cabinet and storage cabinets styles.

*Note about Adjustable Shelving
Every 79″ tall door includes five (5) adjustable shelves, 49″ tall doors include three (3) adjustable shelves, 30″ tall doors include two (2) shelves, 24″ tall doors include one (1) adjustable shelf. 16″ tall cabinets do not have any adjustable shelves. Extra shelves can be added if requested.
If you are looking for garage cabinets in Edmonton, Garage Strategies stocks the best garage cabinets in Edmonton at the best price so stop in today to get your garage cabinets and garage storage. A garage needs a lot of storage. Achieve your garage storage needs with Garage Strategies wide array of garage cabinet and garage storage products.