Handiwall Slatwall Storage Solutions
More Than 44 Choices Hooks, Baskets, Bins, Shelves...
Quality Panels = No Chipping, Cracking, Or Warping & Hold 1000 Pounds Each
Handisolutions Available Cash & Carry DIY, or Garage Strategies Delivery and Install
Made In USA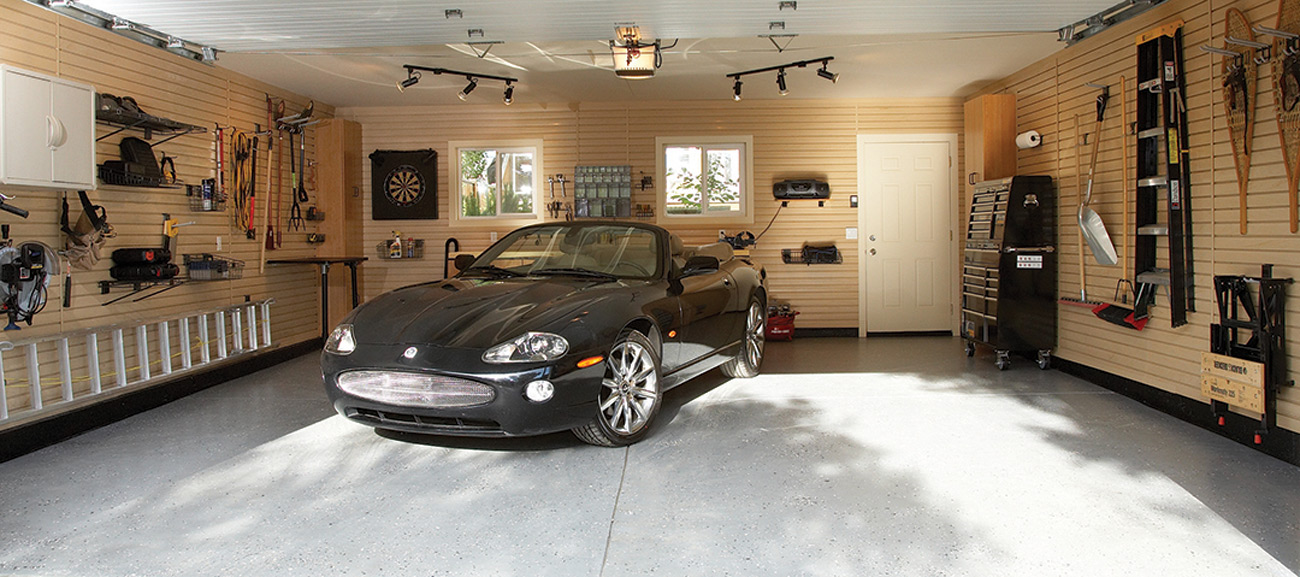 * Limited Time & Quantity, with purchase of panels,
while supplies last, see in store details
Slatwall Accessories
Hooks, Baskets, Bins, Shelves & More . . .
Baskets
12" x 3" Basket

12" x 18" Basket

12" x 8" Basket

12" x 24" Basket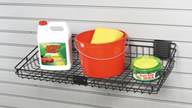 Shelves

14" x 24" Shelf

13" x 24" Shoe Rack

12" Shelf Brackets (left)
14" x 48" Shelf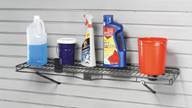 Slatwall Solid Metal Shelves
- Heavy Duty Wall Shelf for your Garage – Powder coated black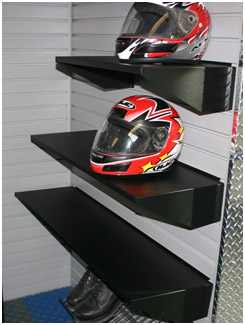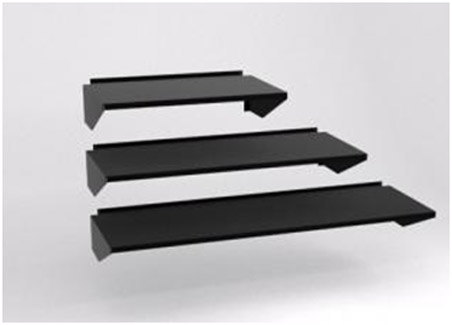 Available in three sizes:
| | | |
| --- | --- | --- |
| Small - 24" | 2414 Hayley Slatwall Shelf | 5"H x 24"W x 14"D |
| Medium - 36" | 3614 Hayley Slatwall Shelf | 5"H x 36"W x 14"D |
| Large - 47" | 4714 Hayley Slatwall Shelf | 5"H x 47"W x 14"D |

Hooks

4" Double Hook
4" Loop Hook

Double Utility Hook

3 Hook Tool Rack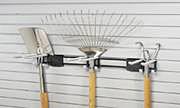 S Hook

6" J Hook

8" Loop Hook

8" Double Hook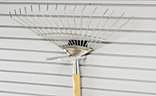 Slatwall Colors
Available in 8 foot lengths; 12 1/4" x 11/16" x 96"
Available in 4 colors - taupe, gray, maple and black
Color-coordinated installation screws included and trim available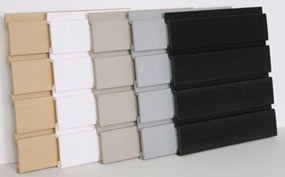 Utility Hooks
Paper Towel Holder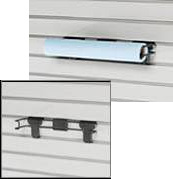 Small Tool Rack

Screwdriver Rack

Magnetic Tool Bars

4 Sizes Bin Tilt Storage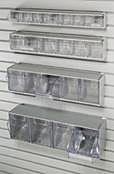 Wall Mount Hose Holder Rack with Compartment


Plastic Utility Bin

Wall Hanger Clips

Sports Hooks

Bike Rack – Horizontal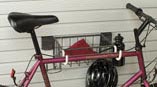 Golf Bag Rack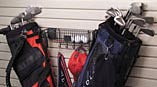 5" bike Hook

Metal Sports Rack & Basket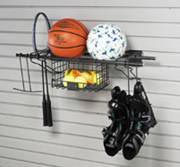 Sports Accessory Rack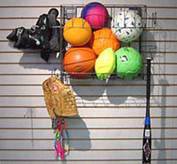 Ski rack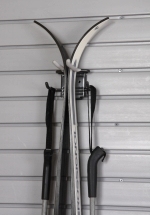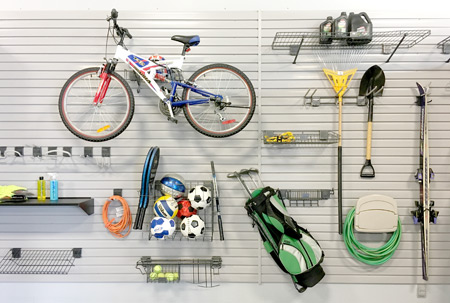 Recycling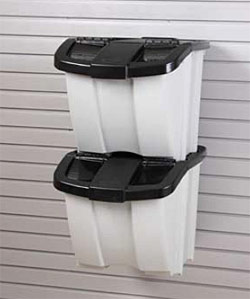 HSRC100G, Gray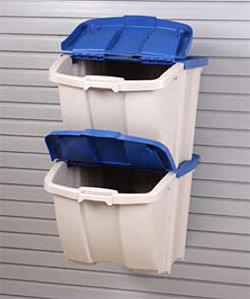 HSRC100T, Taupe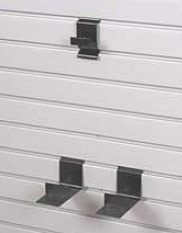 Mounting brackets
included for hanging onto
Each kit comes with two 18 gallon containers with easy to use flip-up tops, and the necessary brackets for hanging onto our Slatwall. The containers are stackable and mount one on top of the other to save wall space. Each container will hold up to 50 lbs. of recyclable materials or bulk items such as bird food, dog food, and ice melt. The product is available in two color schemes; taupe bins with blue tops or gray bins with black tops
WHY BUY Our Slatwall?
Just like an orange - it is difficult to know what you are getting on the inside, as most slatwall looks the same – that is why WE TEST IT FOR YOU!
Our Slatwall is the strongest, most durable cellular PVC for this application.
We have tested other brands and they don't come close to the durability and flexibility of our Slatwall. Some other brands, when tested even split, or cracked when screwing them to a wall and could not hold close to the same weight capacity as ours. That means cheaper products that don't measure up, may cost you more in the long run!
Use it as a complete wall or as a complement to your existing garage storage.
HandiWALL
allows a flexible layout that easily adapts to your storage needs.
Keep the garage clean by hanging everything from power tools to rakes to cabinets. When it gets dirty, spray it down with a hose-
HandiWALL's
unique profile prevents water from pooling at the bottom of the slat.
HandiWALL Slatwall Product Features:
Manufactured in the USA of blended Cellular PVC material
This strong and durable PVC has been tested and is listed with United Laboratories
Water and moisture resistant, easy to clean
Smooth satin finish gives high-end aesthetic appeal
Material color is throughout product
Available in 8 foot lengths; 12 1/4" x 11/16" x 96"
Available in 4 colors - taupe, gray, maple and black
Color-coordinated installation screws included and trim available
HandiWALL Slatwall Technical and Quality Attributes:
Fire tested by independent laboratory (ASTM E84 Test) ranks this product in Grade A (index of 15) for flame spread
3" OC slats, 12 1/4" high (includes 1/4" for tongue and groove connection)
Manufacturer meets ISO Certified manufacturing process and is quality tested to be compliant with the ISO 9001:2000 standard:
- Incoming Quality Control for color and materials requirements for lot consistency
- First piece inspection to match control plan specifications
- In-Process inspections
- Final Audit of manufactured product

Product is measured for conformity to requirements:
- Length
- Color match
- Form, Fit and Function including shape of slats, connection of panels, assembly of slatwall accessories
- Strength testing every production run via in-house calibrated fixture
HandiWALL Slat-Wall and Slat-Wall Accessories
Endless Possibilities...
Slat-Wall is the perfect addition to your garage. Whether above your workbench or on a wall, Slat-Wall Hooks and Slat-Wall baskets give you the ultimate in storage flexibility.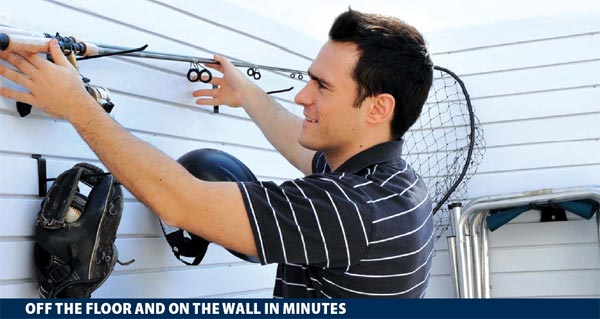 | | |
| --- | --- |
| | Easy to Install and Use |
| | Strong & Durable Material |
| | Custom Sizes and Fit |
| | Attractive Finish in 4 colors |
| | Moisture resistant, easy to clean |
| | Full range of accessories |
Email us or visit the store and we will be happy to give you pricing and help you with your selection.
Item
BASKET 12W 03D
BASKET 12W 08D
BASKET 18W 12D
BASKET 24W 12D
BIN RECYCLE GRAY
BIN RECYCLE TAUPE
BIN TILT 4 - X LRG
BIN TILT 5 - LRG
BIN TILT 6 - MED
BIN TILT 9 - SML
BIN UTILITY GRAY
BIN UTILITY TAUPE
CLIP ACCESSORY LOCKNG
color strip Black
colorstrIp Blue
color strip orange
color strip red
color strip Yellow
H 3 HOOK TOOL BAR 24"
H BIKE RACK HOR
H GARDEN RACK
H GOLF RACK
H HOOK 4" DBL
H HOOK 4" LOOP
H HOOK 5" BIKE
H HOOK 6" J
H HOOK 8" DBL
H HOOK 8" LOOP
H HOOK GARMENT
H HOOK S
Item
H HOOK SMALL 1" SNAP
H HOOK SMALL 4" SNAP
H HOOK SMALL 6" SNAP
H HOOK SMALL 8" SNAP
H HOOK SMALL NOTCH
H HOOK UTILITY DBL
H HOSE HOLDER
H MAG TOOL BAR 13"
H MAG TOOL BAR 24"
H PAPER TOWEL HOLDER
H SCREWDRIVER RACK
H SKI RACK
H SPORT/BALL RACK
H SPORTS RACK METAL
H TOOL RACK SMALL
H WINE RACK
S SHELF 14" x 24"
S SHELF 14" x 48"
S SHELF BRACKET 12"
S SHOE RACK 13" x 24"
MOLD 96" CORNER
MOLD 96" DIV
MOLD 96"  J
PANEL 96" x 12" BLACK
PANEL 96" x 12" GREY
PANEL 96" x 12" MAPLE
PANEL 96" x 12" TAUPE
PANEL 96" x 12" WHITE
If you are looking for Slatwall garage storage in Edmonton, Garage Strategies has the largest stock of Slatwall panels, Slatwall hooks and Slatwall accessories in Edmonton at the best price, so stop in today to get your garage Slatwall storage.